Building a portfolio is every photographers job if they want to show their wares to the people that buy images. Even in these days of the internet, blogging, bulk e-mails etc., there are still times when an ad agency calls for your book. So it pays to be ready for that occasion. Over the years I have tried various methods of transporting and presenting my work. It started as a folio of the type I had when I was at art school, with clear plastic sleeves trapped in a snap ring binder. This was OK since it had the benefits of being able to chop and change images to suit the prospective client. Then I wanted something more bespoke; that said more about me and I had this case made by the
Aluminium Case Co.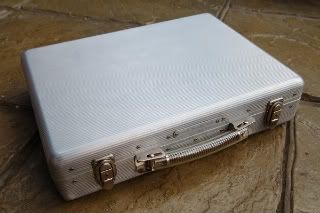 The Aluminium Case Co offer load of custom options and I opted for a basic case with a nice rib finish, spring handle and a free nameplate thrown in. The rounded corners were a nice touch.
The case is lined with hi-density foam that was cut to accept 16x12in (41cmx31cm) laminates made by
Covent Garden Laminates
. A full felt back was put on each laminate to avoid spoiling the lam below. A notch at the end allowed for removal of the lams. In the lid a recess was cut to take my business postcards. The lid was hinged to stop 90 degrees from the base. I knew that such a case would occasionally be on the back of a motorbike despatch rider and so I bought a bag from
plastic sandwich
. The bag is good and tough but doesn't have a handle on top so it can be carried like a briefcase. The whole caboodle was bulky and fairly heavy and I soon tired of lugging it around.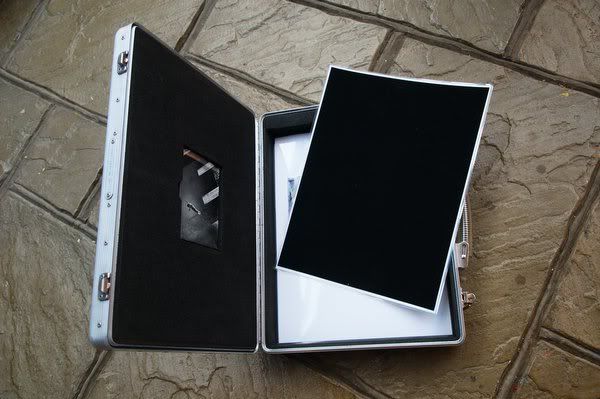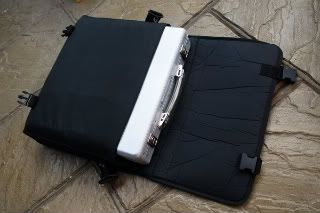 Enter Book Two (the current book)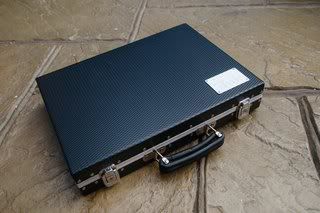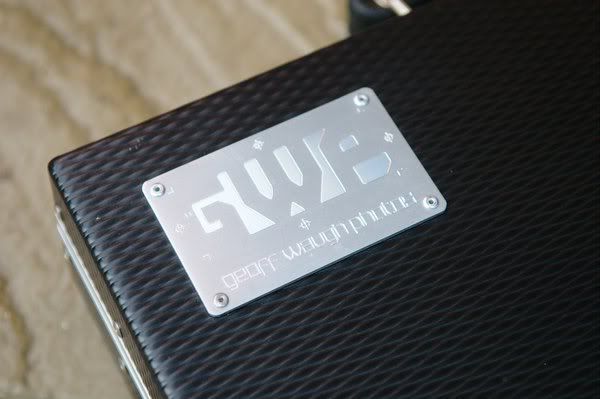 Now I wanted something smaller, lighter, more portable but retaining the personality of the aluminium case. Again I went to Aluminium Case Co. (I actually drove there and took a look around which impressed me no end. Custom guitar cases are cool!). This time I went for a stippled black painted case, with a leather handle, locks and custom etched nameplate. (my logo, with its printer's reg marks left in was perfect for this design). The laminates are now 14x11in (35.5cmx28cm). The prints are 10x8 or 10x7in so there is always a white border. Note that all the lams are upright format but landscape format prints run horizontally. This is so the client doesn't have to twist the laminate or his/her head all the time!
The whole felt backs are now four corners and the centre to lose weight. In the lid of the book there are recesses for my cards and a CD/DVD containing a media show, to leave with the client.
Like Book One, the portfolio is kept in an outer carry bag ,but this time with the top handle! don't laugh - that handle becomes important! I got the bag in
Cowling and Willcox
in Soho. When not in the Book Two main folio, I have a basic hinged port that I also bought from Cowling. It looks like this: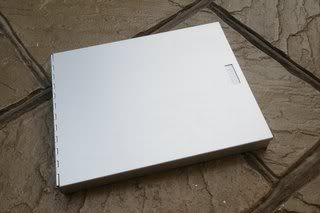 I ship laminates in and out of the books dependent on the client to whom they wil be shown. So there you have it. Presentation is important and, whilst no book should be judged by its cover, as your mum probably told you - first impressions count!