Not your usual badness like running out of battery power or Compact Flash cards, but a real situation where someone has got hurt and needs immediate medical attention. This happened on my shoot yesterday and I didn't like it. I hate to see people hurt badly and it turned what was a lovely day into a evening of worry for many. I had been commissioned by
Cycling Plus
to shoot a route over the Peak District National Park and my models for the day were three women drafted in for their knowledge of the area and strong legs, Sam, Mel and Sandra. Everything was going swimmingly.
But on the short but steep descent down to a ford in the village of Butterton I saw Sandra struggling with her bike. She shot past my car, screaming that she was out of control. I watched helplessly as she smashed into the drystone wall in front of her, taking the full impact on her head.
Any impact of that nature is serious and I had a horrible feeling inside as I quickly parked up. But help was already at hand from two hikers that happened to see the crash. One of them was obviously well school in first aid and took over the whole situation, checking for signs of a serious neck/back injury. It was obvious Sandra's arm was broken and her crash helmet was smashed to pieces. Her bike was written off. More luck was to come since the local ambulance was on call in the village that day and a backboard and gas was soon in action. But being in such a remote location meant the Air Ambulance had to be called in to get Sandra to hospital.
Sandra was brave. She knew she was hurt but kept smiling. She even told the Air Ambulance Para Medic his pain killer wasn't as good as the gas and air. 'That's because you haven't had it yet!" he replied, "All I've done is put the line in."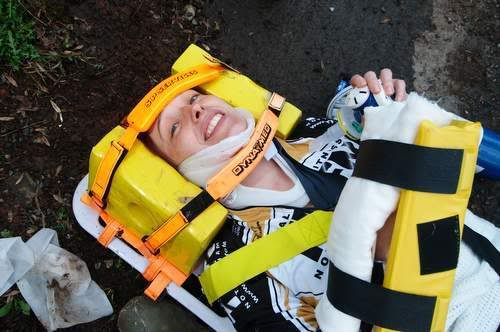 The good news is that Sandra broke her wrist badly but is otherwise OK. The helmet definitely saved her from more severe injury. The mystery hiker deserves a massive thank you from us all who could have done more harm than good in such a critical situation. Thanks to the locals who let us use their land lines to call for help and tell relatives. The shoot was over but I still had to navigate for my other riders, Sam and Mel to get back to their vehicles over some 15 miles of very hard terrain. So thank you everyone for your time and expertise. And Sandra I hope you mend and get into action very soon. Let's not do it again. Here's a nice pic of Sandra before her accident. You can choose which one for your Facebook page Sand!