Heart because I'm not savvy enough to make a little heart symbol. But nevermind eh? Worse things 'appen at sea as Nelson once said when his arm was lopped off. I do like
Holgas
if only because they make me feel like a snapper again. Once you make a business out of taking photos some of the joy must be filtered out. It's inevitable.
But
since discovering the world of coloured plastic that is a Holga (or a
Diana
for that matter) I feel like I am starting on a little adventure again. I never know what I am going to get. Apart from the chuckles at processing lab when they see the results! A toy camera does have it advantages though. On last year's Tour of Belgium bike race I could approach the riders before the start with my camera around my neck with no fear of being intrusive. In fact even better, they laughed! They were at their ease without any help! None of my crap jokes required. Holgas are nothing new of course, although I haven't owned one for that long. I have had a Lomo for longer. And I can understand why people love them and the pictures they produce.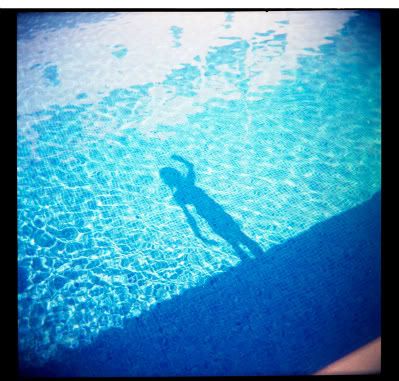 Here's my youngest saying hi to my Holga. An aged looking shot taken only a few months ago!
Alas, my Holga CFN has had a flash malfunction and no longer works. I cannot explain why since I treat the thing with mucho love. There are plenty of modification sites on the web but I don't want to go bending slivers of metal inside the body. I will retire it into a world of available light and get myself replacement. I was up for a different colour anyway ;-) I'm certain people will take me seriously with
this

sucker
.....